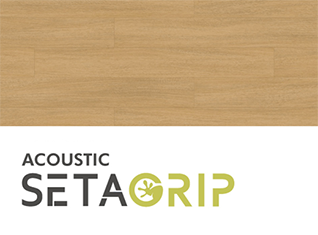 ACOUSTIC SETAGRIP
Easiest with innovative technology

Internationally patented micro-suction technology ensures strong adherence to the flooring, providing exceptional waterproof performance that facilitates the easiest installation and maintenance. In addition, industry-leading No. 1 noise absorption technology is applied to prevent sound transmission in apartments, and carbon-reducing materials are used that are safe for both people and the environment.
EPT™ Shield

Safe and strong 2-fold LVT surface coating technology
Anti-bacterial coating with superior
scratch-resistance

EMT™ Core

Stable and eco-friendly LVT core technology
Unique multi-layer structure with supreme
dimensional stability

EPT Shield+

High performance surface coating technology
Industry no.1 stain resistance and better
anti-slip function
Download Brochure

Difference
Easiest, fastest installation and maintenance, saving costs

The internationally patented micro-suction technology strongly adheres to the flooring, providing exceptional waterproofing and the easiest installation and maintenance

Advanced noise reduction technology providing the best foot comfort

The world's first and most sustainable flooring with carbon-reducing materials

NOX ACOUSTIC SETAGRIP utilizes carbon-reducing raw materials, ensuring safety for both families and the environment

Bio-Circular Balanced PVC

A sustainable raw material produced from discarded resources like waste cooking oil reduces carbon emissions by 114% compared to conventional PVC

Eco-friendly
Phthalate-Free Plasticizer

Eco-friendly plasticizers made from recycled PET bottles, setting an industry-first while enhancing safety and sustainability

NOX redefines the sustainability standard of flooring and leads global LVT flooring sustainability innovation by expanding the percentage of carbon-reducing materials to the world's highest level and producing 100% easily recyclable floorings only.

Safe for humans by not requiring flooring glues

Safe for the environment by being light weighted that lowers carbon emissions occurring during transportation
< Discover the innovation in ACOUSTIC SETAGRIP >
Technical Information
Specifications
Test Result
Caution
technical information table
Brand
Thickness [mm]
Wear Layer [mm]
Size [mm]
Pcs/Box
ACOUSTIC SETGARIP
3.5
0.15
152.4 X 1219.2 (6" X 48")
16
3.5
0.15
457.2 X 457.2 (18" X 18")
14
ACOUSTIC SETAGRIP Installation Process
1) Remove only half of the release film from the backing.
2) Place the backing on the floor with half of the release film peeled back and folded.
3) Adjust and position the backing at the desired location.
4) After the positioning, peel away the remaining half of the release film.
5) Press down firmly to secure the entire backing to the floor.
technical information Test Result table
Test Item
Requirements
Results
TEST METHOD
Dimensions
Length: ≤0.15%, Width: ≤0.10% (MAX: 0.5mm)
Meets
ISO 24342
Squareness
≤ 0.25mm
Meets
Overall thickness
Nominal value +0.18mm / -0.15mm
Average value ± 0,20 mm
Meets
ISO 24346
Wear layer thickness
+13% / -10%
Meets
ISO 24340
Total mass per unit area (average): g/m2
+13% / -11%
Meets
ISO 23997
Dimensional stability
≤ |0.25| %
Meets
ISO 23999
ASTM F2199
Residual indentation
≤ 0.35mm (<0.35mm wear layer)
≤ 0.20mm (≥0.35mm wear layer)
Meets
ISO 24343-1
Peel resistance strength (N/mm)
≥ 50 N/50 mm
Meets
ISO 24345
Castor chair resistance
No damage after 25,000 rev
Meets
ISO 4918
Color fastness
> 6
Meets
ISO 105-B02,
Method 3b
ΔE < 8
Meets
ASTM F1515
Heat resistance
ΔE < 8
Meets
ASTM F1514
Chemical resistance
Not more than a slight change
Meets
ASTM F925
Noise reduction
ΔLw : 20db
ISO 10140-3
IIC 56
IIC 67 (Without dropceiling)
ASTM E492-09
Indoor Air Quality
Floorscore, IAC Gold certified
CDPH/EHLB Standard Method v1.2-2017
Key European requirements